Baklava
Baklava, Baklava Dessert, Pistachio Baklava, Walnut Baklava, Assorted Baklava, Dessert, Turkish Baklava, Chocolate Baklava
13 products in this category
Baklava
Turkey comes to mind as a sweet, lovely dessert with tourists from each other, leaving fans with a taste of its own map. One of them is baklava, and this is an important flavor that represents Turkish delicacies. Baklavas, which have a wide range of products, are made in many different ways. Baklavas with pistachio and walnut are made in triangle, square, round, and rectangular shapes. Baklava, which is a dessert with syrup, is eaten for five o'clock tea or after meals.
It is the indispensable dessert of the Turks and one of the tastes that ex-pats miss the most when they are away from their country. It is difficult because it is specific to Turkey, and Turkish restaurants and bakeries are located outside. Expatriates can not find as tasty dessert baklava in Turkey are getting to the Gourmeturca think they miss.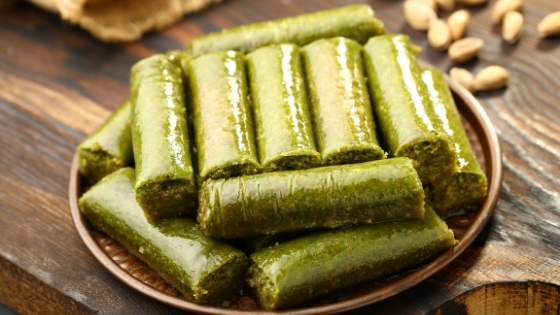 Baklava Types
Baklava, which is a registered Turkish dessert belonging to the Ottoman cuisine, had continued the tradition when Aleppo-origin masters transferred the baklava techniques as thin as tulle to the masters of Gaziantep, and the dessert we call Antep baklavahas emerged. The important thing in baklava is that its dough is very thin, and its syrup is high.
Antep baklava is a dessert that looks tiny but is made with 50 layers of phyllo dough and contains lush green peanuts. When you dip a fork, you can see the crispy sound and the green pistachios inside when the lid is lifted. One of the most missed desserts, şebiyet is also a type of baklava. The combination of cream and pistachio baklava is an addictive dessert, and nobody can give up again.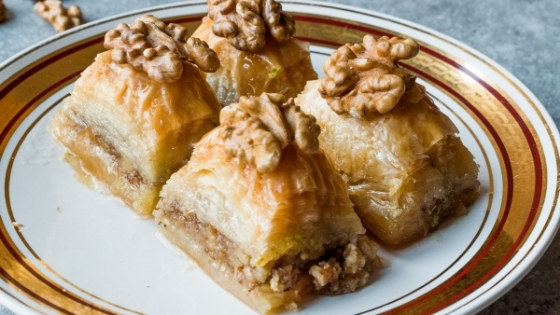 Baklava with Walnut with Gourmeturca
Baklava, which comes to mind when talking about Antep, can be made with walnut as well as being pistachio. The taste of baklava with walnut, which has become the passion of those who love walnuts, the density of its sherbet, creates wonders with 50 kay doughs. People who crave the crunchiness of walnuts can reach baklavas anywhere in Europe with Gourmeturca. In addition to the baklavas sent by express cargo, you can also take advantage of other Turkish delicacies. The flavors you long for are brought to your door with Gourmeturca.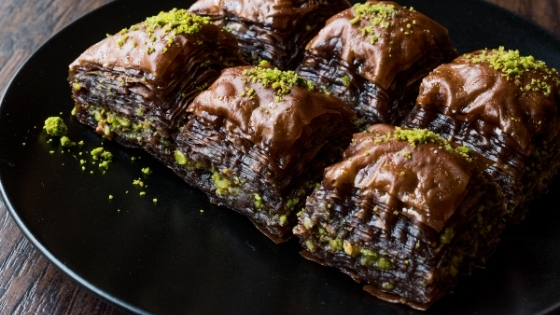 Longing for Baklava
Baklava is one of the most frequently missed foods for those who go to work or study abroad. You can get the opportunity to eat in a few days by ordering any of the baklava varieties made in different ways. We make you feel that you are very close to flavors with express cargo planes that provide easy payment options and fast shipping.
One of the most popular baklavas is the baklava variety, which we call the walnut palace wrap. The traditional celebratory dessert of the palace notables wrapped in the palace with walnuts contains plenty of walnuts on each floor. The peanuts on it accompany this flavor. This dessert, which is made in the size of a coin and in a round shape, differs from another baklava with a small amount of sherbet on it.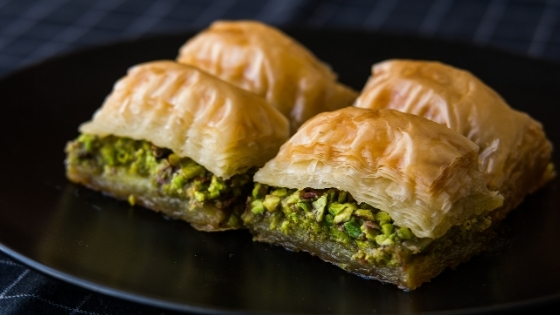 Baklava and Europe
There are many expatriates working and studying in Europe. Although there are Turkish restaurants and patisseries in some places, baklava, which is easier to reach, is possible with the online site. Your orders with Gourmeturca arrive at your home in a few days. You can buy baklava varieties that you can taste without leaving home by weight and consume them for a long time. It is time to meet Turkish delicacies sent to all parts of Europe with express cargo.
Baklava from Turkish Flavors
Baklava is the first thing that comes to mind when you say Turkish flavor to foreigners. The homeland of the notorious diamond in a broad region known as Turkey. It is a dessert that is widely produced and consumed, especially in the Antep region. It is one of the tastes most missed by those who are away from their hometown, and it is now very easy to reach it. Baklava, which walnut lovers can buy with walnut and pistachio lovers, offer a wide taste perception. The crispy feature of walnuts adds a distinct beauty to baklava and whets the appetite of those who see it.
Diamond Shapes
One of the baklava, which is made in many different ways, is the shrunken baklava dessert; with its crunchy texture, it is made in shapes such as roses, bundles, mussels, cups, and rolling pin, apart from the shrunken baklava that those who eat it again. Desserts, which are highly preferred, especially during holidays, are offered to guests. At home, there are baklava makers that produce high-quality baklava made with thin doughs.
Especially in baklava shops opened by the people of Antep, we supply freshly made baklava and send it to you in a crispy form. The short delivery time ensures that the baklava preserves its flavor. You can offer the baklavas with sherbet to your guests with peace of mind and consume them in five teas.
Turkish Baklava
When it comes to baklava, we come across a long list of shapes. Baklava recipes, one more beautiful than the other, are made in the best way by baklava makers. Baklava makers, where you can find all kinds of baklava, such as moon baklava, nightingale baklava, and shrunken baklava, produce baklava in series. Quality and freshly produced baklavas are taken from the best quality places for you and sent to your homes.
Baklava Turkish that comes to mind is diamond buff remaining far from Turkey offer opportunities for foreigners. Turkey also comes with diamond-eater and taste Gourmeturca can receive services from the remaining palate by foreign citizens, we convey to the point where they just want it to many other Turkish delicacies they wondered not baklava. Many more flavors, from wraps to pastries, from ravioli to the finest soft drinks, are as close to you as a single order.