Patisserie
Biscuit, Biscuits, Patisserie, Patisserie Recipe, Biscuit Cake, Chocolate Biscuit, Cookies
3 products in this category
About Patisserie
This Gourmeturca list of patisserie offers you a lot of patisserie types which tempt all palates in the world. Divergent flavors all in one category to offer what you need. We provide you with the best quality sour and sweet tasty patisserie. These patisserie kinds are preferred as a snack with hot and cold drinks thanks to their gorgeous appearance and multiple tastes.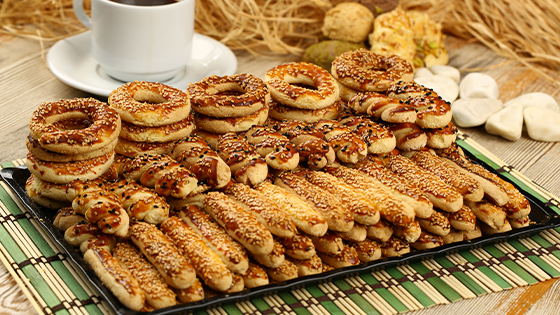 Patisserie Varieties
There are many sorts of patisserie according to taste and ingredients. Here are some of the patisserie varieties: Assorted Cookies, Tahini Cookies, Assorted Salted Cookies, Classic Assorted Sweet Cookies, Gourmeturca Cookies, Assorted Sweet Cookies, Assorted Salted Cookies, Turkish Shortbread, Acıbadem Cookies, White Cookies with Bonibon, Black Cookies with Bonibon, Kefkef with Sesame, Kefkef with Kernel, Chocolate Striped Cookies, Cookies with Gourd Seed, Cookies with Thyme, Cookies with Almond, Grissini with Parmesan, Grissini with Spices, Grissini with Kernel, Grissini with Susame, Crescent Muffins, Plain Halka, Carob Molasses Flavoured Biscuits, Grapes Flavoured Biscotti, Meringue, Acıbadem Cookies, Salted Crackers with Poppy, Anise Flavoured Biscotti.